Pull Up Banners
Pull up or roll banner stands are retractable devices that allow your printed graphics to be rolled up in the base with the pictures facing outwards when not in use. These display gadgets ZignPrint offers are lightweight, portable, easy to install and store, reusable and above all, very affordable to suit your limited budget. If you're looking for an instant advertising solution for your exhibition booth, trade show booth, retail store, hotel or business reception room, pull up banners are the right choice. They have often been found to draw the attention of people passing by in a flash.

ZignPrint offers 2 types of pull up banners:
The E-EF model comes in 2 sizes:
E-EF (1.6m x 0.6m)
E-EF (2.0m x 0.85m)
It's quick to setup and it comes with a cushioned carry bag and astylish silver capping.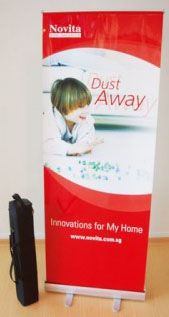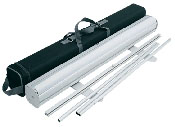 The E-EK model is a completely independent unit in itself and features a cushioned carry case too. The catchy base has a black, powder-coated finish. The banner is trouble-free to set up as well.

This model comes in 1 size.
Print dimensions (W x D):
845mm x 2140mm
(Please bleed 50mm on the top and bottom)